Use baking soda to whiten teeth:
People always ask how I get my teeth so white;
the secret is hiding in your kitchen! Sprinkle
baking soda on toothbrush and
brush as normal. I do this once a week or when
I'm lazy, once a month. :)
Exfoliate:
A fast way to get a radiant complexion
is through getting rid of dead skin cells. Exfoliating will allow fresh new cells to be exposed giving your skin a healthy glow.
I recommend using the St. Ives
Scrub.
The natural inflammatory in soy reduces puffiness
and helps brighten your dark circles. The cold
temperature also reduces swelling. I love
soy milk!
Get wide awake eyes:
Warm your lash curler with a blow dryer
for 3 seconds before curling your lashes.
This will give your curls a nice lift. Be c
areful
though, don't burn your eyes!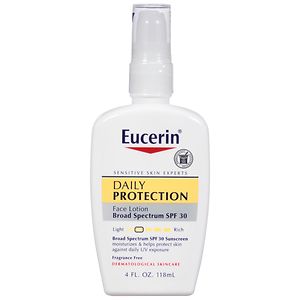 How to look young: apply sunscreen
We apply sunscreen on our face, but we often
forget about our neck and hands. These
parts of your body shows signs of aging
the fastest. My favorite is Eucerin moisturizer with SPF 30. If you
desperately need a tan, use self tanners.
I've seen too many of my friends grill t
heir skin in the sun :( ( no bueno). If you want
gorgeous
skin when you're 60, protect your skin now.
Hydration is key:
Water helps clear the toxins in your body.
Some people use hyaluronic acid lotions, I
just drink water. Try to drink at least
8 glasses a day. The benefits to water are
endless, but I admit that sometimes I don't
drink enough water, do you?